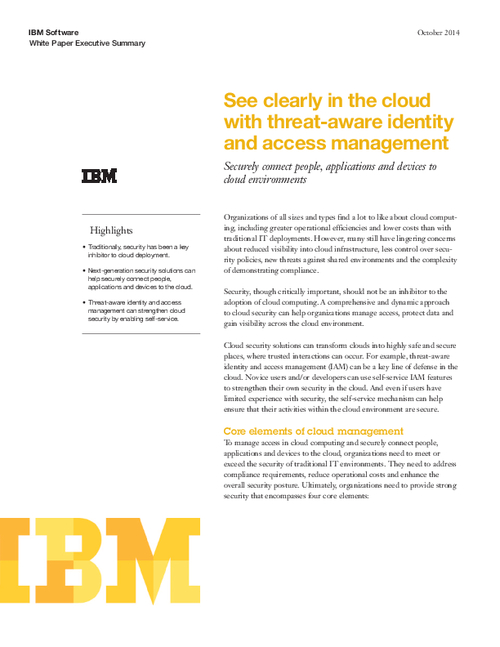 Organizations of all sizes and types find a lot to like about cloud computing, including greater operational efficiencies and lower costs than with traditional IT deployments. However, many still have lingering concerns about reduced visibility into cloud infrastructure, less control over security policies, new threats against shared environments and the complexity of demonstrating compliance. Security, though critically important, should not be an inhibitor to the adoption of cloud computing. A comprehensive and dynamic approach to cloud security can help organizations manage access, protect data and gain visibility across the cloud environment. Cloud security solutions can transform clouds into highly safe and secure places, where trusted interactions can occur. For example, threat-aware identity and access management (IAM) can be a key line of defense in the cloud. Novice users and/or developers can use self-service IAM features to strengthen their own security in the cloud. And even if users have limited experience with security, the self-service mechanism can help ensure that their activities within the cloud environment are secure.
Download the White Paper to explore:
What are the core elements of cloud management;
What is the service approach to cloud delivery.