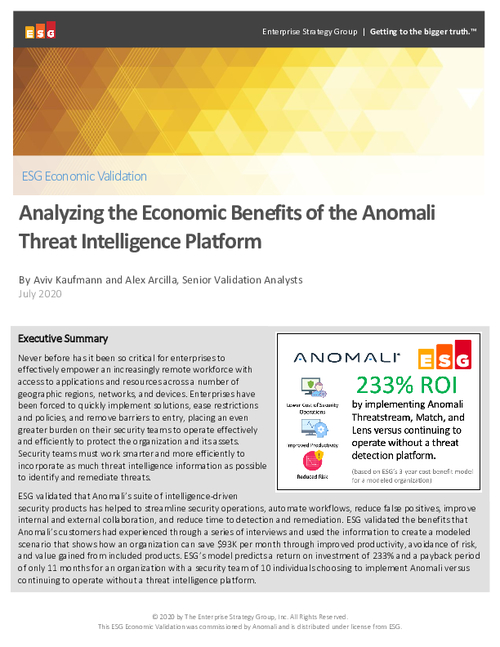 ESG Estimates a 233% ROI from Anomali Threat Intelligence Solutions
Never before has it been critical for enterprises to effectively empower an increasingly remote workforce with access to applications and resources across several geographic regions, networks, and devices.
Enterprises are often forced to implement solutions quickly, easing restrictions and policies and removing barriers to entry, which places an even greater burden on their security teams to operate effectively and efficiently to protect the organization and its assets.
Security teams must work smarter and more efficiently to incorporate as much threat intelligence information as possible to identify and remediate threats.
58% improvement in overall productivity
40% reduction in false positives
93K per month savings, earned through improved productivity, avoidance of risk, and value gained
ESG's model predicts a return on investment of 233% and a payback period of only 11 months for an organization with a security team of 10 individuals choosing to implement Anomali versus continuing to operate without a threat intelligence platform.
Download the full report!