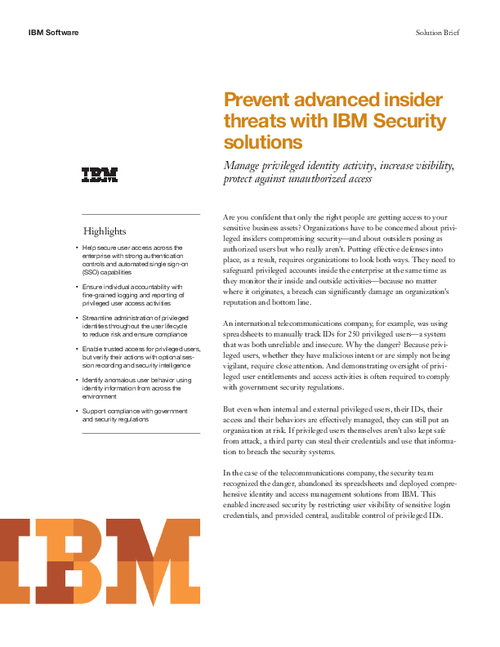 Are you confident that only the right people are getting access to your sensitive business assets? Organizations have to be concerned about privileged insiders compromising security and about outsiders posing as authorized users but who really aren't. Putting effective defenses into place, as a result, requires organizations to look both ways. They need to safeguard privileged accounts inside the enterprise at the same time as they monitor their inside and outside activities because no matter where it originates, a breach can significantly damage an organization's reputation and bottom line. An international telecommunications company, for example, was using spreadsheets to manually track IDs for 250 privileged users a system that was both unreliable and insecure. Why the danger? Because privileged users, whether they have malicious intent or are simply not being vigilant, require close attention. And demonstrating oversight of privileged user entitlements and access activities is often required to comply with government security regulations. But even when internal and external privileged users, their IDs, their access and their behaviors are effectively managed, they can still put an organization at risk. If privileged users themselves aren't also kept safe from attack, a third party can steal their credentials and use that information to breach the security systems. In the case of the telecommunications company, the security team recognized the danger, abandoned its spreadsheets and deployed comprehensive identity and access management solutions from IBM. This enabled increased security by restricting user visibility of sensitive login credentials, and provided central, auditable control of privileged IDs. To help prevent advanced insider threats and identity-related fraud, IBM® Security provides solutions for controlling and auditing shared and privileged identity activity, protecting content against inappropriate access, and correlating monitored user activity with detected anomalies.
Download the White Paper to explore:
How to control and audit shared and privileged identity activity;
How to mitigate credential theft and account takeovers;
How to secure access and protect content from unauthorized use.