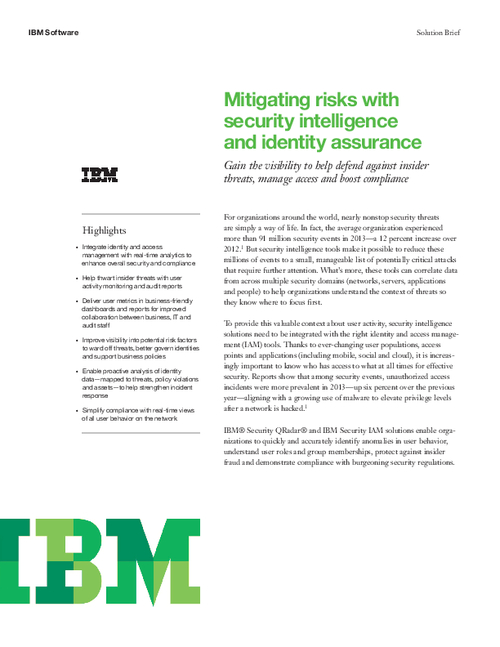 For organizations around the world, nearly nonstop security threats are simply a way of life. In fact, the average organization experienced more than 91 million security events in 2013 a 12 percent increase over 2012. But security intelligence tools make it possible to reduce these millions of events to a small, manageable list of potentially critical attacks that require further attention. What's more, these tools can correlate data from across multiple security domains (networks, servers, applications and people) to help organizations understand the context of threats so they know where to focus first. To provide this valuable context about user activity, security intelligence solutions need to be integrated with the right identity and access management (IAM) tools. Thanks to ever-changing user populations, access points and applications (including mobile, social and cloud), it is increasingly important to know who has access to what at all times for effective security. Reports show that among security events, unauthorized access incidents were more prevalent in 2013 up six percent over the previous year aligning with a growing use of malware to elevate privilege levels after a network is hacked. IBM® Security QRadar® and IBM Security IAM solutions enable organizations to quickly and accurately identify anomalies in user behavior, understand user roles and group memberships, protect against insider fraud and demonstrate compliance with burgeoning security regulations. And these solutions are integrated out of the box no costly professional services engagements required. Using the comprehensive analytics and reports provided by these IBM solutions, IT teams can prioritize risk and cost-effectively deploy resources for threat detection, prevention, response and remediation.
Download the White Paper to explore:
How to gain comprehensive security intelligence;
How to monitor user activity;
How to detect insider fraud.