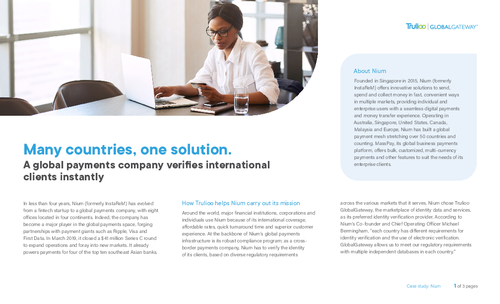 A global payments company verifies international clients instantly.
As a global remittances and payments provider, Nium offers innovative solutions to send, spend and collect money in fast, convenient ways in multiple markets, providing individual and enterprise users with a seamless digital payments and money transfer experience.
Operating in Australia, Singapore, United States, Canada, India, Malaysia and Europe, Nium has built a global payment mesh stretching over 50 countries and counting. MassPay, its global business payments platform, offers bulk, customized, multi-currency payments and other features to suit the needs of its enterprise clients.
This case study details why Nium chose Trulioo to streamline onboarding, verify and screen its clients to mitigate fraud risks, and comply with cross-border regulatory requirements.