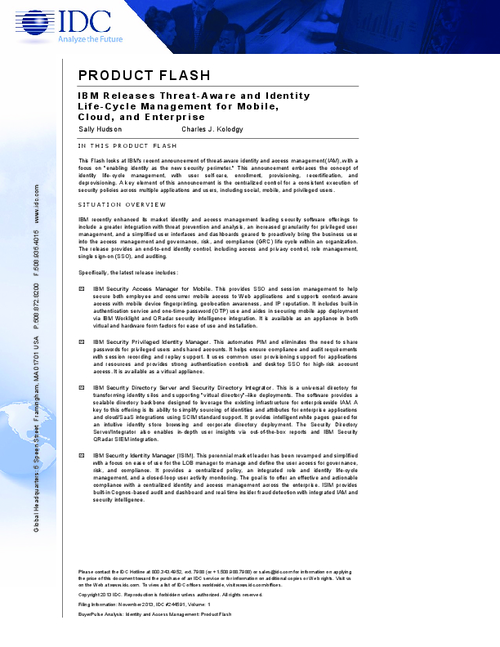 This Flash looks at IBM's recent announcement of threat-aware identity and access management (IAM), with a focus on "enabling identity as the new security perimeter." This announcement embraces the concept of identity life-cycle management, with user self-care, enrollment, provisioning, recertification, and deprovisioning. A key element of this announcement is the centralized control for a consistent execution of security policies across multiple applications and users, including social, mobile, and privileged users. IBM recently enhanced its market identity and access management leading security software offerings to include a greater integration with threat prevention and analysis, an increased granularity for privileged user management, and a simplified user interfaces and dashboards geared to proactively bring the business user into the access management and governance, risk, and compliance (GRC) life cycle within an organization. The release provides an end-to-end identity control, including access and privacy control, role management, single sign-on (SSO), and auditing.
Download the White Paper to explore:
IBM Security Access Manager for Mobile;
IBM Security Privileged Identity Manager;
IBM Security Directory Server and Security Directory Integrator.