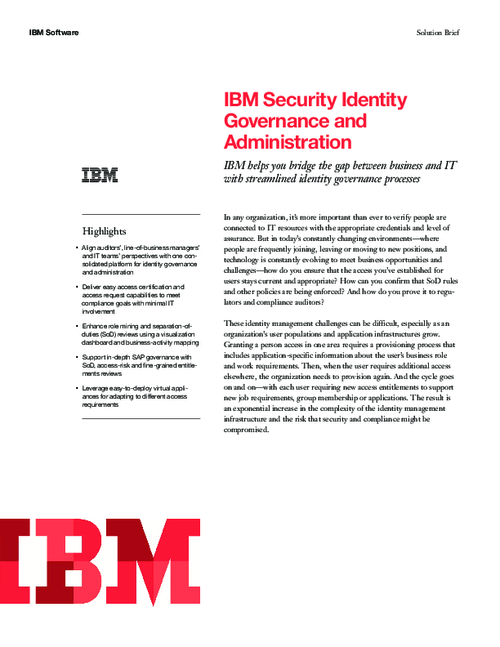 In any organization, it's more important than ever to verify people are connected to IT resources with the appropriate credentials and level of assurance. But in today's constantly changing environments where people are frequently joining, leaving or moving to new positions, and technology is constantly evolving to meet business opportunities and challenges how do you ensure that the access you've established for users stays current and appropriate? How can you confirm that SoD rules and other policies are being enforced? And how do you prove it to regulators and compliance auditors? These identity management challenges can be difficult, especially as an organization's user populations and application infrastructures grow. Granting a person access in one area requires a provisioning process that includes application-specific information about the user's business role and work requirements. Then, when the user requires additional access elsewhere, the organization needs to provision again. And the cycle goes on and on with each user requiring new access entitlements to support new job requirements, group membership or applications. The result is an exponential increase in the complexity of the identity management infrastructure and the risk that security and compliance might be compromised. Now IBM® Security Identity Governance and Administration can help organizations mitigate access risks and SoD violations with business-driven identity governance and end-to-end user life cycle management. It provides an integrated, streamlined approach for managing user roles, access policies and risk, ensuring that appropriate levels of access are applied and enforced across enterprise and cloud applications. The solution automates the administration of user access privileges across an organization's resources, throughout the entire identity management life cycle from initial on-boarding to final deprovisioning. By delivering improved visibility into how access is being utilized, it helps to answer critical compliance questions such as "Who has access to what resources and when?" and "How did users get access to resources and why?"
Download the White Paper to explore:
How to support identity administration and governance with broad capabilities;
How to address key issues that are driving change in identity management;
How to better understand, control, and make business decisions related to access.