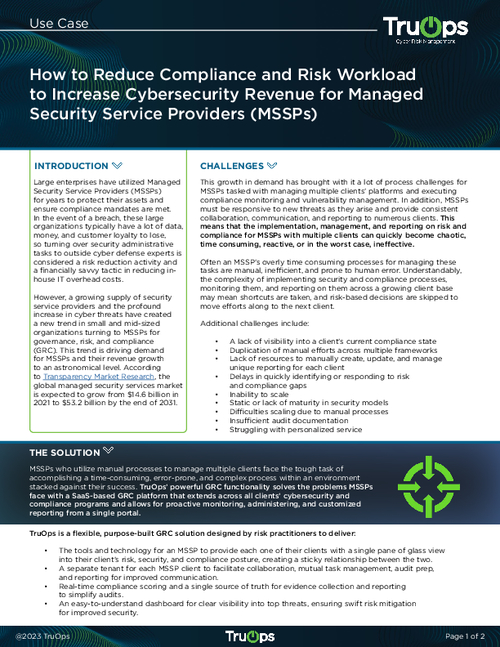 Large enterprises have utilized Managed Security Service Providers (MSSPs) for years to protect their assets and ensure compliance mandates are met. In the event of a breach, these large organizations typically have a lot of data, money, and customer loyalty to lose, so turning over security administrative tasks to outside cyber defense experts is considered a risk reduction activity and a financially savvy tactic in reducing inhouse IT overhead costs.
However, a growing supply of security service providers and the profound increase in cyber threats have created a new trend in small and mid-sized organizations turning to MSSPs for governance, risk, and compliance (GRC). This growth in demand has brought with it a lot of process challenges for MSSPs tasked with managing multiple clients' platforms and executing compliance monitoring and vulnerability management
Download now to learn more and find out how to fight further challenges such as:
A lack of visibility into a client's current compliance state.
Duplication of manual efforts across multiple frameworks.
Lack of resources to manually create, update, and manage unique reporting for each client.
Delays in quickly identifying or responding.