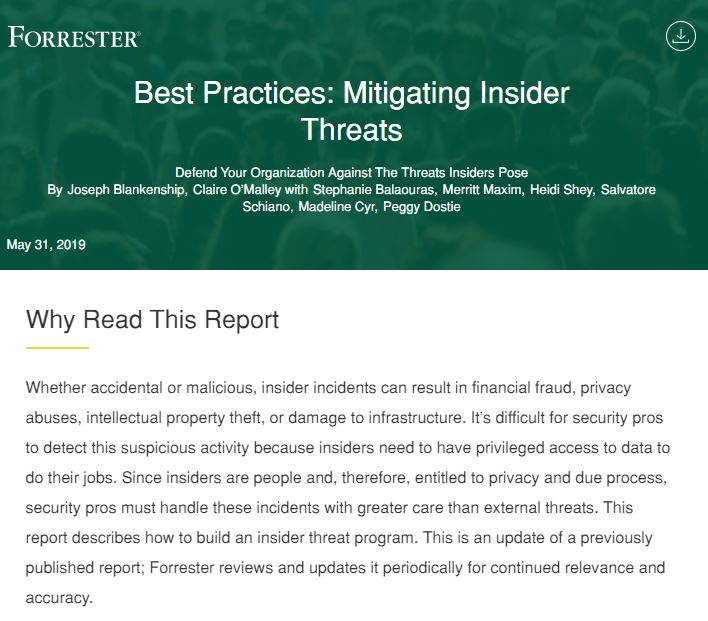 Whether accidental or malicious, insider incidents can result in financial fraud, privacy abuses, intellectual property theft, or damage to infrastructure. It's difficult for security pros to detect this suspicious activity because insiders need to have privileged access to data to do their jobs. Since insiders are people and, therefore, entitled to privacy and due process, security pros must handle these incidents with greater care than external threats.
Download your complimentary copy now to learn what you can do now to make your organization safer and smarter with an insider threat program that works.
Report Key Takeaways:
Insiders Are Responsible For Almost A Quarter Of Data Breaches - With trusted access to your most sensitive data, insiders represent a real threat to your business. Almost one-quarter of our survey respondents told us their firm experienced an insider incident - either inadvertent or malicious misuse of data.
Insider Threats Are Not A Technology Problem - Insiders are people, not computers. Treating insiders as a technology problem ignores the human aspects of motivation and behavior. Detecting insiders requires a defined process and a focused team in addition to detection technologies.
The COVID-19 Pandemic Created Perfect Conditions For Insider Threats -- Organizations globally moved quickly in response to the COVID-19 pandemic, sending workers home, reducing staff, and taking cost control actions. The lack of visibility caused by remote working plus the fear and uncertainty caused by these moves create ideal conditions for insider incidents.
Download NOW.