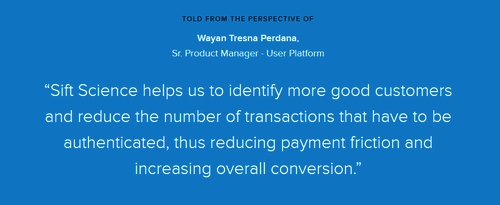 Traveloka is one of the fastest growing tech companies in Southeast Asia that provides travel booking services for domestic and international destinations. Traveloka focuses on helping customers book flights and hotels quickly, easily, and economically.
Traveloka wanted a smart fraud solution that could reduce their fraud false-positive rate and keep their legitimate customers happy.
Read the case study to learn more about:
Ways to improve customer experience by reducing payment friction;
A fraud solution that reduce false positives and the number of transactions that have to be authenticated;
identify legitimate customers and improve conversion rates.