TraceSecurity Customers Realize Automated Compliance and Cost-Savings Benefits with Cloud-based TraceCSO IT GRC Solution
TraceSecurity Customers Realize Automated Compliance and Cost-Savings Benefits with Cloud-based TraceCSO IT GRC Solution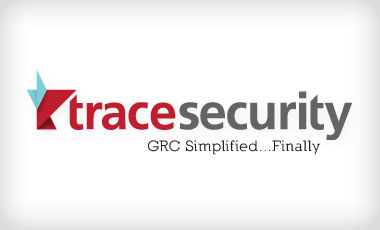 TraceSecurity, the pioneer in cloud-based IT governance, risk and compliance (GRC) solutions, today announced that customers are rolling out the latest version of its TraceCSO cloud-based IT GRC program solution, and realizing real-world benefits such as improved compliance and cost savings within their organizations. Customers benefiting from TraceCSO's unique security management intelligence, integration of Unified Compliance Framework to ensure relevance to industry specific regulations and best practices, and integration of all IT GRC management functions to streamline their entire risk management and compliance processes include Jones Walker law firm and Travis Credit Union.
TraceCSO is the industry's first cloud solution for a holistic and risk-based information security program that delivers comprehensive visibility and accountability for improved risk and compliance profiles across all areas of an organization, including cloud environments. TraceCSO allows organizations of any size, industry or security skill set to evaluate, create, implement and manage a comprehensive risk-based information security program, to protect their organizations from today's top information security risks, including cloud security and "bring your own device" (BYOD) concerns. The new solution will be publicly demonstrated for the first time at the RSA Conference 2013, being held next week in San Francisco, in TraceSecurity's booth number 3101. Customers will also be present in TraceSecurity's booth to discuss their TraceCSO experiences and business results with conference attendees.
"Our firm practices and attorneys serve clients that must comply with a myriad of federal and state compliance regulatory schemes," said Jason Enlow, Director of Information Technology at Jones Walker, a national law firm with more than 375 attorneys across 17 offices in eight states and the District of Columbia. "We are now required by many clients to comply with the same federal and state regulations they do, including HIPAA HITECH, Red Flags, and more. In order for Jones Walker to continue serving these clients, we are subject to the same scrutiny and often are subject to security and compliance audits."
Prior to engaging TraceSecurity, Jones Walker had implemented companywide security practices, including deploying point solutions, educating employees on security best practices, and enforcing acceptable use policies. But with the new requirements from clients, Jones Walker knew it needed a different type of solution.
"TraceCSO allows us to comply with federal and state regulations, minimize risk, identify threats and mitigate exposure, while ensuring our clients' data is secure," Enlow continued. "TraceCSO has allowed us to further refine and develop our entire security program, including education, updating policies, and automating risk analysis and reports for clients. In addition, we are now able to generate reports much faster and with much more accuracy than ever before, which is imperative when responding to client security requests."
Unlike current information security program solutions, which simply provide a console and no remediation tools, TraceCSO identifies and prioritizes risk to an organization's information – including network vulnerabilities – and identifies, implements and audits security controls. To help organizations stay current with the latest regulatory mandates specific to their industry, TraceCSO leverages a global database of hundreds of authorities and more than 25,000 regulations and citations.
"We are seeing good traction for TraceCSO from a variety of vertical markets, and some new ones, concerned with security and compliance, due to the clear GRC benefits TraceCSO's overall IT security programs deliver," said Dariel LeBoeuf, TraceSecurity Executive VP of Sales and Marketing. "We are hearing first hand from the field that TraceCSO provides a structured approach and the tools to best tackle complex risk and compliance issues, all with organizations' current staffing levels and without the burden of complicated implementation."
About TraceSecurity
TraceSecurity, the leading pioneer in cloud-based security solutions, provides IT governance, risk and compliance (GRC) management solutions. The company's cloud-based services help organizations achieve, maintain and demonstrate security compliance while significantly improving their security posture. With more than 1,500 customers, TraceSecurity supports the security and risk management efforts of organizations in financial services, healthcare, high-tech, insurance, government, education and other regulated sectors. Founded in 2004, the company has executive offices in Silicon Valley and offices in Baton Rouge, La. For more information, call (225) 612-2121 or visit www.tracesecurity.com.