Systematic Development Group & Becrypt, Inc. Unveil New Security Solution at RSA 2012
Systematic Development Group & Becrypt, Inc. Unveil New Security Solution at RSA 2012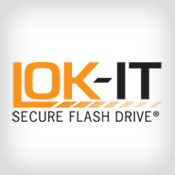 Systematic Development Group, the makers of LOK-IT Secure Flash Drive - the only FIPS 140-2 Level 3 secure drive with hardware authentication - announced a new alliance with Becrypt Inc. to offer its Trusted Client operating system on the encrypted drive. The combination of the first encrypted flash drive with enterprise-level security and the self-contained encrypted Trusted Client will allow employees to connect remotely to their organizations' networks and data with the most secure environment available today. For a demonstration, visit RSA Conference LOK-IT Booth 2723 or Becrypt Booth 442.
"This new partnership provides an innovative security solution for IT managers charged with protecting networks while also allowing remote access to them," said George Wolf, president of Systematic Development Group.
With Trusted Client loaded onto the encrypted flash drive, it can then be used to boot up a computer, which then launches the hardened, securely configured environment. This secure environment comes with a user interface, web browser, e-mail access and stand-alone applications completely isolated from the host computer's hard drive. Trusted Client can be fully configured to any organization's individual requirements. Instead of issuing expensive corporate laptops for home or occasional remote access, IT managers can now provide employees with LOK-IT, which is secure and easier to carry. The simple-to-use security solution provides savings on hardware and support costs, while increasing employee flexibility.
LOK-IT doesn't require software for user authentication or encryption so it can be used with any operating system; both LOK-IT and Trusted Client work with PC and Apple hardware. To gain access to the drive, LOK-IT users simply enter their PIN code onto the onboard PIN-Pad,* much like an ATM allows access to bank accounts.
"The risk for many security-conscious organizations is often too great to allow employees to work from home or the road by accessing the network from an unmanaged PC," said Joshua Wolfe, vice president of sales at Becrypt, a supplier of cyber security solutions to federal agencies. "But the LOK-IT-Trusted Client solution will change that."
About Systematic Development Group
Systematic Development Group is a privately owned company headquartered in Deerfield Beach, Fla. SDG specializes in development of portable security solutions for use within the education, government, healthcare, financial, consulting and legal market verticals. For more information, please visit www.LOK-IT.net.
About Becrypt Inc.
Becrypt was formed in 2001 to meet the growing demand for enterprise security and endpoint security software platforms for personal computer and the growing mobile computing marketplace. Our corporate philosophy is simple. We aim to provide the best software security and secure remote access products available, to fully protect all computer users.