StrikeForce to Showcase Theft of Mobile Keystrokes at RSA
StrikeForce to Showcase Theft of Mobile Keystrokes at RSA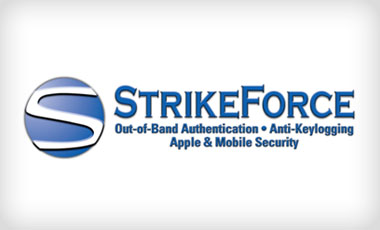 StrikeForce Technologies, Inc. (SFOR.OB), will be demonstrating a very different and a more effective way to protect mobile data at the RSA Conference (Booth #539) in San Francisco (February 25-March 1). StrikeForce leveraged its groundbreaking keystroke encryption technology to now protect mobile keystrokes. The company will show how easy it is for hackers to steal information such as login/password, credit card numbers, and private email and text messages from your mobile device.
By showing how it's done, StrikeForce Technologies can make people understand why they have built MobileTrust™, a solution that protects the data on all Apple and Android mobile devices. MobileTrust includes the only keystroke encryption technology designed for mobile platforms as well as a password vault, strong password generator, OATH compliant soft tokens, an encrypted database and more.
StrikeForce's keystroke encryption technology (patent pending) is now protecting over five million users in over 100 countries. Leveraging this technology for all Apple and Android mobile devices will help prevent users from falling into the same-old lack-of-security prevention trap.
"Attempts to prevent hackers from infecting mobile devices are an exercise in futility," said George Waller, EVP of StrikeForce Technologies. "Just as with the desktop, anti-malware providers can't keep up with millions of newly written attacks that happen each week. We advocate using anti-virus on your mobile device to prevent what is known, but it needs to be paired with keystroke encryption to protect against zero day attacks. It won't stop the malware from infecting your device, but it will prevent your device from sending the data on your system to the hacker."
Keyloggers capture keystrokes before they get to the security of the application such as email, VPN, or an SSL encrypted website. "Truth is if the PC and mobile device manufacturers integrated keystroke encryption into their devices, they would save their customers billions of dollars," said Mark Kay, CEO of StrikeForce Technologies. "If HP, Dell, Lenovo, Samsung, Sony, Apple or any large manufacture embedded keystroke encryption into their systems, it would make computing and communications 90% safer for all of us."
About StrikeForce:
StrikeForce Technologies (OTCBB: SFOR) is the creator and key patent holder for multi-factor out-of-band authentication as well as an anti-keylogging keystroke encryption technology (patent pending). The company's GuardedID® anti-keylogging keystroke encryption technology prevents keylogger malware from stealing personal, business, financial information and passwords. Their software protects over five million individuals and businesses in over 100 countries from identity theft and data breaches. StrikeForce's ProtectID® out-of-band authentication technology is the only platform to offer eight different out-of-band methods, including phone, voice, instant messaging, hard tokens, and desktop/mobile tokens. ProtectID can be installed and managed 100% on premise, or, via StrikeForce's hosted service offering, or a hybrid. StrikeForce is headquartered in Edison, N.J., and can be reached at www.strikeforcetech.com or by phone at (732) 661-9641 or toll-free at (866) 787-4542.