STEALTHbits to Present New Directory Authority Solution at RSA
STEALTHbits to Present New Directory Authority Solution at RSA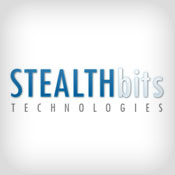 STEALTHbits Technologies, the provider of the industry's most comprehensive IT management and compliance platform for Microsoft-based systems, applications and data repositories, today announced the release of StealthINTERCEPT Directory Authority, a new product line solving critical problems related to compliance, data leakage and insider control by providing real-time, in-line analysis of and controls over any directory and file system changes.
Designed to work in concert with STEALTHbits' award-winning StealthAUDIT® Management Platform (SMP) or as a standalone solution, StealthINTERCEPT Directory Authority connects directly to directory and server processes to provide in-line activity analysis and subsequent event consolidation, archiving, reporting and response, including alerting and blocking, thus avoiding all of the debilitating limitations of relying on event logs. Guided by a revolutionary rules engine that enables the modeling of any organization's security processes and concerns, StealthINTERCEPT dramatically streamlines administrator oversight, operational change control and compliance. StealthINTERCEPT provides the same level of control over Group Policy Objects to offer another critical security control to IT professionals.
"The need for more comprehensive security around AD is a growing requirement for most organizations, but mid-size organizations often struggle to keep tabs on changes to their AD environment," said Scott Crawford, managing research director, Enterprise Management Associates. "With solutions like StealthINTERCEPT, which allow you to discover changes as they're happening and provide the ability to proactively lock down objects to reduce unauthorized changes before they occur, mid-size organizations have access to more advanced solutions that are appropriately priced."
"As a company looking to gain better insight and control over access to our data assets, we were pleased to find STEALTHbits is offering an affordable solution on a single platform to help us more easily pinpoint what changes are being made and by whom so we can protect our AD environment to ensure compliance and security," said Donald Cordner, assistant director, Computer Services at Temple University. "There's tremendous peace of mind in having the ability to know not only who made changes, but also what that change was and where it came from, plus the ability to lock down critical AD objects to prevent malicious or accidental changes to critical places in our AD environment."
StealthINTERCEPT Directory Authority includes a robust set of features that enable IT professionals to:
Provide forensics and control over improper insider activity.
Rapidly identify accidental changes detrimental to IT operations, saving time on investigation, remediation and preventing future occurrences.
Utilize a single point of control for network directories and file systems, including Active Directory, eDirectory, Windows file servers and filers, and Novell File Systems.
Easily ensure that organizational security policies are appropriately enforced.
Dramatically reduce time invested in demonstrating compliance.
Reduce the risk of data leakage.
"StealthINTERCEPT is all about the changes that have an impact in your Active Directory environment - who made the change, where the change came from, and what the changed object looked like before and after," said Dave Bullas, Active Directory product manager at STEALTHbits Technologies. "Unlike point solutions or event logs that provide only a singular view or answer about these events, StealthINTERCEPT contains a powerful rules engine that provides users the ability to easily capture AD changes and prevent undesirable changes to critical objects using a single, integrated platform. With this new product line, we're providing an affordable solution that makes it easy to pinpoint what changes were made and by whom to enable greater visibility for AD administrators."
Pricing & Availability
StealthINTERCEPT Directory Authority is available immediately through STEALTHbits and through select channel partners. Pricing starts at $12 per network user for Active Directory. For more information, visit http://www.stealthbits.com/, email sales@stealthbits.com or call +1-201-447-9300.
STEALTHbits will present its new StealthINTERCEPT Directory Authority solution at RSA Conference 2012 in San Francisco, February 27th - March 2nd, Booth # 2736. To schedule a meeting at the show, please contact Jordan Bouclin or Bree Bolognese at (401) 490-9700.
About STEALTHbits
STEALTHbits Technologies, Inc. offers the industry's most comprehensive IT management and compliance platform. Built from the ground up to collect, analyze, remediate, and report on data and systems critical to compliance success, STEALTHbits' technology platform provides a single, unified framework for the management of Microsoft infrastructure and beyond, truly bridging the ever-widening gap between IT Management & Compliance groups within organizations large and small. Since 2001, STEALTHbits Technologies, Inc. has delivered powerful solution sets that address specific business problems across Active Directory, Exchange, Public Folders, SharePoint, Data and Access Governance, Systems Governance, and BlackBerry and ActiveSync. Learn more at www.stealthbits.com and follow STEALTHbits on Twitter.