SAS Cybersecurity Instantly Reveals Abnormal Network Behavior
SAS Cybersecurity Instantly Reveals Abnormal Network Behavior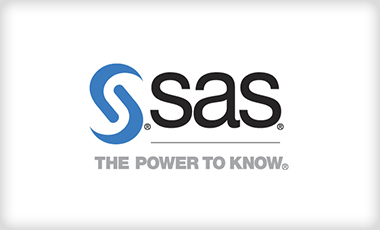 Cybercriminals are getting smarter, constantly shifting their methods and tactics. The best defense is a stronger offense: approaching cyberthreats as a business problem. That is why SAS, the world's leader in advanced and predictive analytics, is introducing SASCybersecurity, available in fall 2015.
Unlike security vendors developing or integrating advanced analytics into their solutions as an afterthought, SAS has a proven analytics platform that has solved business problems across the enterprise for nearly 40 years. With SAS Cybersecurity, SAS applies its expertise to help organizations proactively address cyber risk and respond to threats in real time.
"Headline-making cyberattacks demonstrate how hackers can be inside a network for months before detection," said Ray Boisvert, CEO of I-Sec Integrated Strategies (ISECIS), and former Assistant Director for Intelligence with the Canadian Security Intelligence Service. "During that time, they lurk persistently and increasingly undetectable within the network, where they uncover and later extract an organization's most valuable information. This is a huge gap in the cybersecurity market. An organization has an information advantage over a hacker only once."
SAS Cybersecurity correlates and analyzes billions of daily network transactions with business contextual information across the organizations, such as asset data, functional business role and existing security alerts. It optimizes, then analyzes, data in real time to capture a continuous picture of active security risks. This comprehensive view of normal versus abnormal activity helps an organization sustain its information advantage over attackers.
"Hackers' reconnaissance activities are shrouded within massive amounts of data, and are difficult to detect. In addition, existing security solutions generate too many alerts," said Bryan Harris, Director of Research and Development for Cyberanalytics at SAS. "By harnessing and enriching all this data in real time and applying complex, behavioral analytics, SAS Cybersecurity adds an essential layer of cyberdefense."
Users do not have to be analytics experts to gain fast insights. SAS Cybersecurity provides an accurate, prioritized list of network devices exhibiting risky behavior that requires immediate investigation. This greatly reduces the number of alerts, ensuring the most efficient use of the security operations center's (SOC) time and resources.
Learn more about SAS Cybersecurity.
Today's announcement was made at the RSA Conference, the world's leading forum for enterprise and technical information security professionals. Preview SAS Cybersecurity at Booth N3035.

About SAS
SAS is the leader in business analytics software and services, and the largest independent vendor in the business intelligence market. Through innovative solutions, SAS helps customers at more than 75,000 sites improve performance and deliver value by making better decisions faster. Since 1976 SAS has been giving customers around the world THE POWER TO KNOW.