Radiant Logic Announces ID Solution Based on Virtualization at RSA
Radiant Logic Announces ID Solution Based on Virtualization at RSA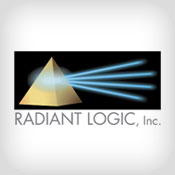 Radiant Logic, a market leader for identity virtualization solutions, announces the release of RadiantOne 6.0, a complete federated identity service to address the security challenges of connecting users to cloud and web applications across multiple authentication protocols, identity sources, and applications. Featuring a dynamic set of tools including identity remapping, aggregation, correlation, and synchronization, the suite includes the advanced virtual directory of VDS+, the Cloud Federation Service (CFS) to connect identities with the cloud, and an identity correlation and synchronization engine.
Release of RadiantOne Version 6.0
Available in April 2012, RadiantOne 6.0 is the first complete on-premises federated identity service based on identity virtualization. The suite is designed to address the fast-growing security demands of authenticating and authorizing a diverse user base - including internal, external, mobile users - across multiple security protocols, identity stores, and usage patterns. Infrastructure complexity has continued to build with the adoption of more clouds-based and federated applications. To address this challenge, RadiantOne acts as a common identity hub, helping to dramatically simplify identity management and rationalizing the architecture through virtualization. RadiantOne accesses identities stored in Active Directory, LDAP directories, SQL and web services, and then securely delivers information into tokens for web or cloud-based authentication and attributes synchronization.
"Our customers keep telling us about the huge security challenges they face in a fast evolving IT environment. On one side, their user base is more and more complicated with, internal, external, and mobile users, while on the other side, SSO, authentication and authorization have to bridge a sea of security protocols, across various security domains, identity stores and application resources," says Michel Prompt, CEO of Radiant Logic. "That's why we've evolved the concept of a virtual directory into a complete federated identity service, abstracting and delivering many services in one logical, manageable and auditable place. We believe that building a flexible and highly scalable infrastructure is not just about having the right tools at your disposal - it's also about establishing and using a process to mobilize the tools effectively. That's why our new release features process wizards to guide you in building a solid and scalable federated identity infrastructure."
Hosting Secure Connections to the Cloud On-Premise
As enterprises increasingly strive to take advantage of cloud-based applications and resources, Radiant Logic releases the Cloud Federation Service (CFS) as a component of the federated identity service. Together with VDS+, CFS enables cloud applications to authenticate users against the authoritative sources within the organization, supporting SSO across both enterprise and cloud applications. RadiantOne VDS+ virtualizes the authentication, validating the user against a variety of sources - including multiple Active Directory domains and forests, LDAP, databases, and web services - then CFS acts as a secure token service, (STS), gathering the requested attributes and building an encrypted claim in the form that the application understands. CFS can securely deliver claims to many of today's mission-critical applications, including WebEx, Sharepoint 2010, Google apps, and Salesforce.
"Most larger enterprises have a heavy investment in legacy applications, so they need a way to leverage their current identity infrastructure, but also connect to the cloud," says Dieter Schuller, VP of Sales at Radiant Logic. "By providing a secure token service to federate identities with cloud-based applications, RadiantOne's CFS offers the ideal solution for companies that want to build a path to the cloud, while preserving the infrastructure they've already built."
RSA Collaborates with Radiant Logic to Enhance IAM and Cloud-Service Offerings
RSA, the Security Division of EMC (NYSE: EMC), has entered into an agreement to offer Radiant Logic's VDS+ identity virtualization engine as part of RSA's Identity and Access Management solutions.
"Our customers are striving to enable access to their applications from an ever-growing number of employees and non-employees", said Nirav Mehta, Director of Product Management at RSA. "At the same time, they are sharing identity information with an increasing number of cloud service providers to enable their users to access these services. Identity virtualization will enable organizations to achieve these objectives without compromising security. RSA is teaming up with Radiant Logic to offer its identity virtualization technology in conjunction with RSA's identity and access management products and cloud services. This combination is a fitting answer to the identity and access management challenges in hybrid clouds."
Radiant Logic To Showcase Version 6.0 at RSA Conference
Radiant Logic will provide demos of the RadiantOne Suite Version 6.0 at the RSA Conference from February 27-March 2, 2012 in San Francisco. Systems engineers and sales team members will be on hand to introduce the new VDS+ or the new Cloud Federation Service. To request a demo, please contact info@radiantlogic.com or visit booth #345.
About Radiant Logic
Radiant Logic, Inc. is the market-leading provider of identity virtualization solutions.
Since pioneering the first virtual directory, Radiant Logic has evolved its groundbreaking technology into a complete federated identity service, enabling Fortune 1000 companies around the world to solve their toughest identity and access challenges.
By providing unified, secure access to identity and contextual views built out of heterogeneous applications and data sources, the RadiantOne platform enables authentication and fine-grained authorization for identity management and context-driven applications. RadiantOne delivers fast ROI by reducing administrative effort, simplifying integration tasks, extending the value of existing IT investments, and enabling future identity and data management initiatives.
Customers in a wide range of sectors - including government, banking, and manufacturing - rely on RadiantOne to speed deployment, solve integration challenges, and cut costs for identity and context management projects.