Authentify Selected for NSTIC Trusted Online Identities Pilot
Authentify Selected for NSTIC Trusted Online Identities Pilot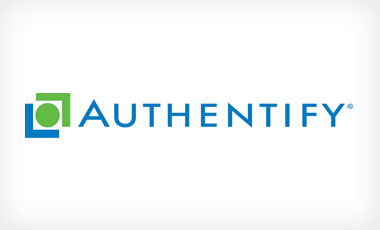 Chicago-based Authentify, Inc., the leading innovator in the use of the telephone as an authentication tool, today announced that it has been selected to support the American Association of Motor Vehicle Administrators (AAMVA)'s pilot project for raising the level of trust in online identities.
Known as the Cross Sector Digital Identity Initiative (CSDII), the pilot is being conducted under the auspices of the federal National Strategy for Identity in Cyberspace (NSTIC) program and managed by its program office in the U.S. National Institute for Standards and Technology (NIST).
The initiative will demonstrate the viability of leveraging Department of Motor Vehicles' (DMV) in-person identity proofing services to create a digital credential that can strengthen online authentication and trust when individuals access online services while also better maintaining user privacy and identity security.
Authentify will provide the infrastructure to issue mobile digital credentials once an identity has been vetted by AAMVA members and out-of-band (OOB) authentication services to validate the identity token's authenticity when it is used online.
"When you show someone your driver's license or passport, there is an underlying assumption that the agency issuing that credential did their due diligence, and the credential can be trusted," said Peter Tapling, president and CEO of Authentify. "The typical credential in cyberspace is usually just a username and password. In today's online business climate, we need more than a password to guarantee the correct real-world individual is connected to the online identity information. Bridging the gap between the real world and cyberspace when activating a credential or granting online access is the part Authentify provides to the CSDII."
Developing greater trust and security strength without sacrificing usability or privacy was a major driver behind the NSTIC program. As a grant recipient, AAMVA is working to develop a trust framework for strong digital identity credentials, which other online entities will also be willing to accept.
"AAMVA and its members recognize the value in improving secure online transactions, and we look forward to having a significant role in raising confidence that people are, in fact, who they claim to be online," said Neil Schuster, AAMVA president and CEO. "AAMVA understands the need of numerous legitimate businesses, both public and private, to verify the user's ID."
According to Tapling, "Authentify's latest generation of product for smartphones, Authentify xFA™, provides the infrastructure to create digital credentials protected by digital certificates and biometrics, which are simple for the end user and protect the privacy of the credentials."
In addition to AAMVA and Authentify, other CSDII pilot participants include the Commonwealth of Virginia DMV, Biometric Signature ID, CA Technologies, Microsoft and AT&T. The AAMVA CSDII pilot is the third NSTIC pilot project in which Authentify is participating. The other two are being led by Resilient Network Systems from San Francisco and Criterion Systems from Vienna, Va.
Authentify, headquartered in Chicago, is exhibiting its technology this week at both the 2014 Mobile World Congress in Barcelona, Spain and the 2014 RSA Conference in San Francisco. Authentify can be found at Mobile World Congress as part of the State of Illinois Pavilion, exhibit 5J60 in Exhibit Hall 5. At the RSA Conference in San Francisco's Moscone Center, visit Authentify in the South Exhibit Hall, 500 Aisle in booth 526.
About Authentify, Inc.
Authentify, Inc. is the leading innovator of global phone-based, out-of-band authentication services and is ranked as a visionary in the Gartner Research, Magic Quadrant for end user authentication. These services enable organizations that need strong security to quickly and cost-effectively add 2-factor or 3-factor authentication layers to sensitive user activities including login, transaction verification and critical account data changes such as adding a payee to an e-pay or wire account. Authentify markets primarily to corporate security, e-commerce, e-payment and financial services firms that need to protect accounts from compromise or other exploits against digital assets.
For more information about Authentify, contact John Zurawski, john.zurawski@authentify.com or visit www.authentify.com
For more information about NSTIC, please visit: http://www.nist.gov/nstic.