APCON Showcases New IntellaTap solution at RSA Conference
APCON Showcases New IntellaTap solution at RSA Conference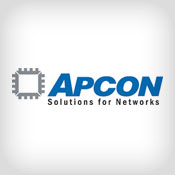 APCON, Inc., the industry leader for intelligent network monitoring switches, today announced its IntellaTap managed network tapping solution. This innovative solution allows data center managers to simultaneously tap up to nine full duplex 10G fiber optic Ethernet links on a single blade that integrates seamlessly into an APCON network switch.
Unlike individual passive network tap units, the IntellaTap blade simplifies network monitoring and security efforts. By integrating the IntellaTap blade into a single chassis with APCON's IntellaFlex and IntellaPatch switching blades, network managers are able to apply aggregation, rate conversion and filtering to tapped traffic, and deliver those data streams to monitoring equipment from a single secure interface.
"IntellaTap is the next step in APCON's plan to deliver a complete family of industry-leading network monitoring and security products," said Richard Rauch, President and CEO of APCON. "With IntellaTap, we're meeting the needs of data center managers who require a tapping solution that installs in the network monitoring switch."
The IntellaTap Solution
APCON's IntellaTap is a 1RU blade that fits into any IntellaPatch Series 3000 chassis. IntellaTap routes tapped data directly through the chassis backplane to an APCON IntellaPatch or IntellaFlex blade. This integrated design eliminates unnecessary fiber cabling and connections, improving reliability and sustaining the physical security of the link being tapped. IntellaTap passes full-duplex traffic transparently at line rate, which allows monitoring tools to conduct comprehensive troubleshooting and achieve 100% visibility at every layer of the network.
Each pair of IntellaTap ports taps one 10G inline fiber-optic connection with a high-precision optical splitter, routing the tapped data through the chassis backplane to any other port (or ports) on the switch. Alternate optical signal split ratios are available, ranging from 50:50 through to 90:10, based on individual installation requirements.
IntellaTap is a Managed Tap, offering statistics, diagnostics, and SNMP capabilities, while maintaining the fail safe characteristics of a passive Tap. When integrated with an IntellaFlex blade in the same chassis, the IntellaTap offers full packet aggregation, 10G to 1G rate conversion, port tagging and packet filtering capabilities.
"Tapping a 10G link and converting the data rate to 1G on an IntellaFlex blade integrated into the same chassis allows data center managers to use their existing 1G tools to analyze the 10G link," Rauch said.
By integrating IntellaTap with the Series 3000 chassis, both capability and connectivity are enhanced. Primary features of APCON's enterprise-class IntellaPatch Series 3000 chassis architecture include redundant power supplies and fault-tolerant dual controller cards.
Unlike switches with single controllers that can halt network operations during a failure, the APCON design offers high availability failover, allowing it to be used in the production network of an enterprise. Should the active controller fail, the standby unit powers off the failing controller and assumes the active device role. Failover occurs in a matter of seconds, with no impact on active connections. Even in the event of complete power failure, each IntellaTap port pair defaults to a transparent open connection. Connectivity on the primary link is maintained at all times.
APCON will showcase the new IntellaTap solution at the RSA conference in San Francisco, California, February 28 to March 2, 2012.
About APCON
APCON develops innovative, scalable technology solutions to enhance network monitoring, support IT traffic analysis, and streamline IT network management and security. The company serves as the industry leader for state-of-the-art IT data aggregation, filtering, and network switching products, as well as leading-edge management-software support. Organizations in over 50 countries currently depend on APCON solutions in their network infrastructures. Customers include Global Fortune 500 companies, banks and financial services institutions, telecommunication and service providers, government and military organizations, and computer equipment manufacturers. For more information, visit www.apcon.com or follow on Twitter at @APCON.