NIST IT Lab Director to Retire
Aide to NIST Chief Will Replace Cita Furlani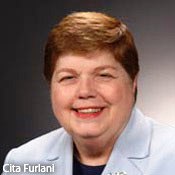 After six years as head of the National Institute of Standards and Technology's Information Technology Laboratory, Cita Furlani will retire early next year, NIST said Thursday.

Furlani, who has been at NIST for 30 years, will be replaced by Charles Romine, a senior adviser to the NIST director, pending approval from the Office of Personnel Management.

Romine serves as acting associate director for NIST six lab programs. The position of associate director for laboratory programs was created in October 2010 as part of the first major realignment of NIST programs in 20 years (see Obama Signs NIST Reorganization Bill).

Awarded a Ph.D. in applied mathematics from the University of Virginia, Romine spent 15 years conducting research at Oak Ridge National Laboratory on advanced algorithms for supercomputers and four years at the Department of Energy Office of Science as program manager for the Office of Advanced Scientific Computing Research.

Furlani, in a 2009 interview (see NIST and IT Security: Much More Than Guidance), reflected on her job:

"The excitement from where I sit is figuring out where we can have the greatest impact with the resources we have and how best to move the standards, measurements and testing along to help industry and our federal colleagues to take advantage of the innovations that are coming downstream that are giving us these wide open opportunities for new ways of doing things every minute. It seems like every minute of the day ... we are talking about how IT can be used to anticipate and prepare for [new challenges]. When it comes down to where NIST fits, it's always back to the standards, measurements and testing, and figuring out where our unique contributions can have the greatest impact is my daily job and that's part of the fun."