Lynn to Leave No. 2 Post at Pentagon
Deputy Secretary Serves as DoD's Cybersecurity Point Man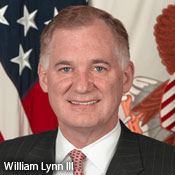 Deputy Secretary William Lynn III, the Defense Department's point man on cybersecurity, says he will leave his job as the No. 2 DoD executive when a replacement is in place.

Lynn helped create DoD's strategy to protect the military's and nation's digital assets (see DoD Unveils New Cyber Defense Strategy), including the standup of the U.S. Cyber Command (see Military Stands Up CYBERCOM as Its Latest Command).

As deputy secretary, he often articulated the department's cyber strategy (see Defense Dept. Outlines New Infosec Approach), and represented the United States at global cybersecurity gatherings. "Cyber is an area in which the U.S. cannot go it alone," he said. "There is a strong logic to collective cyber defenses. Collective cyber defenses are similar to air and missile defense in that the more attack signatures that you see, the better your defenses will be. The concept of collective defense is a key part of our strategy."

In his role as the Pentagon's cybersecurity leader, Lynn showed he could make a serious point with levity, as he did in his keynote address at the RSA security conference in San Francisco earlier this year (see Steve Jobs is Apple of Pentagon's Eye). He told the crowd that the Pentagon takes 81 months to field a new computer system; Apple Computer took 24 months to develop the iPhone. "That is less time than it takes us to prepare a budget and receive Congressional approval for it. This means I get permission to start a project at the same time Steve Jobs is talking on his new iPhone. It's not a fair trade."

In an interview with the Associated Press, Lynn said his departure had nothing to do with former CIA Director Leon Panetta replacing William Gates as defense secretary. Lynn said he informed Panetta on the new secretary's first day on the job, July 1, that he would resign as deputy secretary to spend more time with his family. The Pentagon Thursday issued a statement about Lynn's departure.

The deputy secretary is the latest cybersecurity leader to announce his departure from the Obama administration. On June 16, the White House revealed that Federal Chief Information Officer Vivek Kundra would leave later this summer (see Vivek Kundra Resigning as Federal CIO). A day later, Justice Department CIO Van Hitch, who co-chairs the Federal CIO Council's panel on IT security, said he would retire (see Van Hitch to Retire as Justice CIO). In late May, Deputy Undersecretary Philip Reitinger left the Department of Homeland Security as its top cybersecurity policymaker (see Reitinger Resigns Top DHS Cybersecurity Post).

Lynn became deputy defense secretary in February 2009, 23 days after President Obama took office. During the Clinton administration, Lynn served as DoD's comptroller. In nearly two decades in government, Lynn served as senior national security adviser to the late Sen. Edward Kennedy, D-Mass., as well as a senior adviser to five defense secretaries.