Anti-Money Laundering (AML) , Cryptocurrency Fraud , Fraud Management & Cybercrime
The IRS Takes on Cryptocurrency-Funded Terrorists
Agents Chris Janczewski and Jon Gebhart Discuss Recent Efforts to Disrupt Terrorist Financing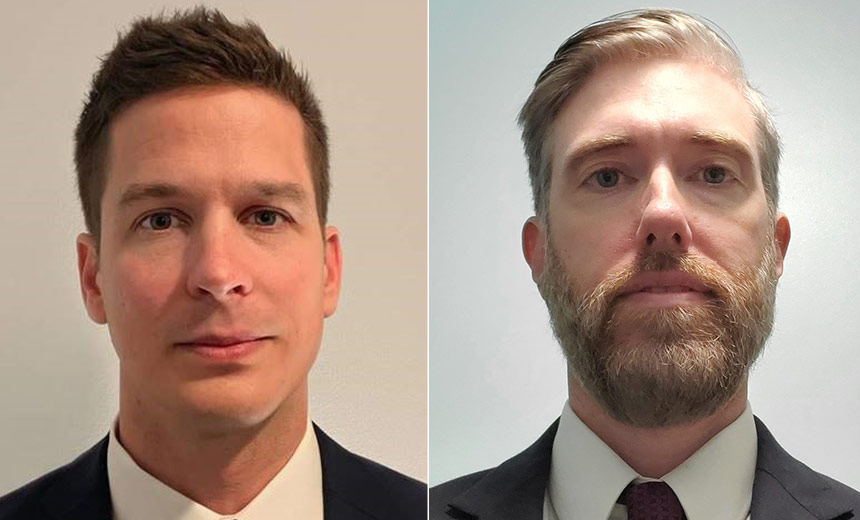 The IRS Criminal Investigation Cyber Crimes Unit is waging a battle against the use of cryptocurrency for financing terrorists and other money-laundering activities. Agents Chris Janczewski and Jon Gebhart describe recent cryptocurrency-related takedowns.
In a joint interview with Information Security Media Group (see audio link below photos), agents Janczewski and Gebhart discuss:
The role of the IRS in countering cryptocurrency- based criminal activity;
The recent disruption of three cryptocurrency financing campaigns for terrorism;
Their concerns for cryptocurrency-funded crimes in 2021 and optimism for countermeasures
Janczewski is a special agent with the Internal Revenue Service - Criminal Investigation's Cyber Crimes Unit in Washington. His investigative experience includes international money laundering cases relating to child exploitation, terrorism, state-sponsored hacks, darknet markets, virtual currency, stolen identity and tax refund fraud, and the Department of Justice's Organized Crime Drug Enforcement Task Force Program.
Gebhart is also a special agent in the same IRS unit. He conducts investigations into allegations of tax fraud, money laundering and violations of the Bank Secrecy Act, focusing on those involving virtual currency. A certified public accountant, he held a variety of positions in accounting and finance prior to joining the IRS.