How to Become a Data Scientist
5 Expert Tips on Developing the Right Skills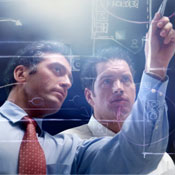 A data scientist is a new breed of database professional who applies scientific analysis to large data sets to identify patterns and vulnerabilities.
See Also: LIVE Webinar | Stop, Drop (a Table) & Roll: An SQL Highlight Discussion
These professionals are distinct from other data analysts in their ability to use advanced quantitative analysis and security intelligence to support critical business decisions.
"Data scientists know how to find correlations, extract actionable data and discover undetected security events and patterns," says Phil Neray, head of security intelligence strategy and marketing for Q1 Labs, an IBM company. "They are the new-generation cops focused in identifying and preventing breaches."
As organizations are becoming more data-centric, the data scientist position is getting attention from several sectors, including financial services, e-commerce, healthcare and professional service organizations.
Glassdoor.com, a site that enables workers to self-report salaries, shows average data scientist salaries ranging from $75,000 to $115,000.
Following are five tips for information security professionals interested in becoming data scientists:
Earn a Mathematics Degree: A bachelor's degree in mathematics, statistics or computer science is a must, experts say. Candidates must have an understanding of algorithms, correlation and linear algebra to conduct quantitative analysis. "This role cannot be executed without sound knowledge of statistical methods," says Aaron Caldiero, senior data scientist at Zions BankCorporation, a financial services firm.
Gain Experience in IT Architecture: Individuals with professional experience in data structures, system architecture and programming are well-suited to transition into this new role, Neray says. Data scientists need to understand parallel distributed computing to build data repositories and accommodate large data sets for accelerating specific tasks.
Strengthen Data Mining Skills: The ability to collect, integrate, analyze and extract data is important. Data scientists must be able to find useful correlations among dozens of fields in large relational databases.
Leverage New Technologies: Technologies such as big data and semantics help data scientists to become innovative in their discovery processes. "We can now create logic behind the data that leads to important business decisions," Caldiero says.
Learn to Collaborate with Business Leaders: Data scientists help C-level executives interpret and integrate data. "The business people who own this data have the real understanding of its meaning," says David Saul, chief scientist at State Street Corp., a financial services company. "So the more we can move closer to the people who own and understand it, the more meaningful the data will be."
For profiles of three data scientists, see related story.