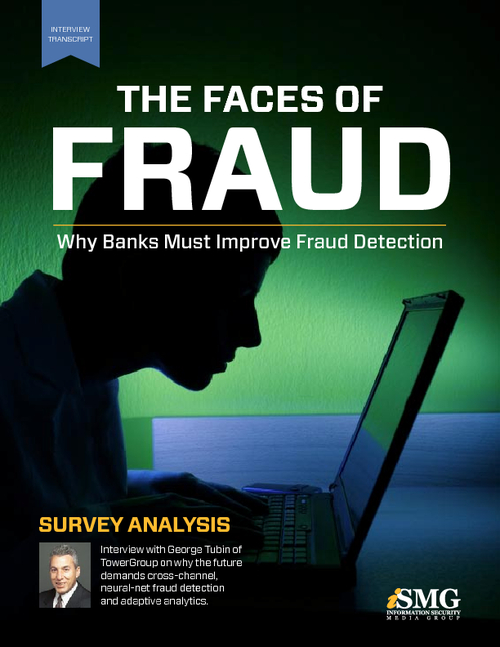 Why Banks Must Improve Fraud Detection
Interview with George Tubin of TowerGroup
Fraud detection and lack of cross-channel integration pose big security challenges for financial institutions. And according to results from Information Security Media Group's new Faces of Fraud Survey, a lack of resources and technology is to blame.
Those hindrances make the battle against fraud increasingly difficult for banks and credit unions, says George Tubin, a senior research director for TowerGroup who focuses on delivery channels and financial security. As the survey's results reveal, banking institutions continue to rely on outdated technology that exposes them to serious security threats.
"I think the biggest threats are going to continue to be the cyberthreats and those types of techniques that get around current authentication procedures," says Tubin, who shared his perspective after reviewing the survey's findings. "Institutions are going to have to continuously re-evaluate and upgrade and enhance their front-end authentication capabilities, as well as their back-end fraud-detection capabilities going forward."
Increasingly sophisticated fraud techniques can easily get around standard password authentication practices, which has fueled an uptick in incidents of ACH fraud and account takeovers, Tubin says. And as the survey reveals, most financial institutions are not investing in security and fraud-prevention tools that today's electronic-transaction environment demands. "Many institutions only know about fraud when they get notified by the customer, and that is not indicative of an industry that is really trying to address the problem."
During this interview, Tubin discusses:
The flaws inherent in manual fraud-detection;
Why the future demands cross-channel, neural-net fraud detection and adaptive analytics;
The growing problems ACH fraud will pose in 2011.
Tubin is a senior research director for TowerGroup's Delivery Channels and Financial Information Security research services. His areas of expertise include consumer online banking, online fraud and identity theft prevention, information security strategy, and customer authentication as well as mobile banking and contact center strategies and technologies.