3rd Party Risk Management , Business Continuity Management / Disaster Recovery , Governance & Risk Management
Enom's Data Center Migration Leaves Customers 'Trapped'
Customers Left With No Access to Hosted Email or Website Services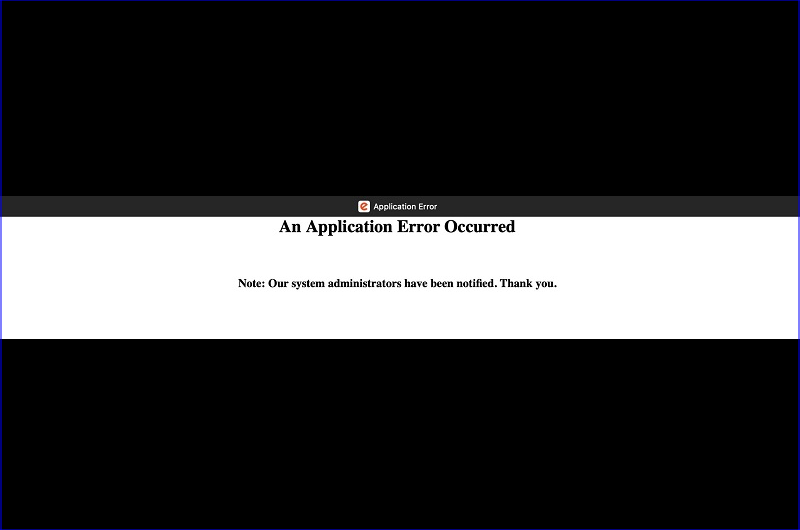 The services of domain name registrar and web hosting provider Enom Inc. were plagued by downtime issues during a scheduled data center migration activity on the weekend. The maintenance activity that was supposed to last for 12 hours between 6:00 a.m. PST and 6:00 p.m. PST on Saturday has now extended beyond 36 hours, and customers say they are reportedly still facing issues accessing their websites and emails linked to Enom's DNS and email services.
See Also: Live Webinar | Cutting Through the Hype: What Software Companies Really Need from ASPM
After about 36 hours #eNom is finally ALL SYSTEMS OPERATIONAL, but... pic.twitter.com/rgqXNmiEzN

— Sheldon Chang - SaaS, Ergo, + Photos (@sysop408) January 17, 2022
Enom's support center acknowledged the situation on Sunday and said, "We are receiving some reports of domains using our nameservers which are failing to resolve. Owing to the migration we are unable to research and fully address the issue until the migration is complete. This is not an expected outcome from the migration, and we are working to address it as a priority."
The web hosting provider on Monday published an update in its support center stating that its "extended" maintenance is now complete. But several of its customers tweeted that the issues persist.
DNS Should Not Be Affected
According to the original maintenance notice published by the Enom support center, DNS resolution, emails and active or issued SSL certificates were supposed to have remained operational even during the scheduled data center migration activity. But that has not been the case and has angered users, who have called the outage a "terrible mess" on social forums such as Reddit.
A Reddit user with the name etheos99 says, "What's absolutely nuts about this is [that] we cannot change our NameServers [since] Enom itself is down (going on 24 hours now). Never in my life have I been in a situation where I can't route around network issue at the root domain records level. We are totally trapped!"
Another user PsyVeteran who claims to be an IT manager, says, "I have a few domains under this issue. Their migration sounds like a total mess. They just advised it is being extended to midnight PST. They can't investigate the issues either as their tools and support are down until migration is complete."
Enom issued updates on its support center extending its maintenance activity as it informed customers that its engineers were continuing to test and remediate all customer-facing issues and certifying the correct operation of its platform one after the other before finally saying that it has been fixed, according to the Monday update at 00:00 PST.
In response to the continued complaints published by its users over social media forums, Enom has issued an update today at 05:01 a.m. PST that it is again investigating the DNS resolution and management issues that exist following maintenance.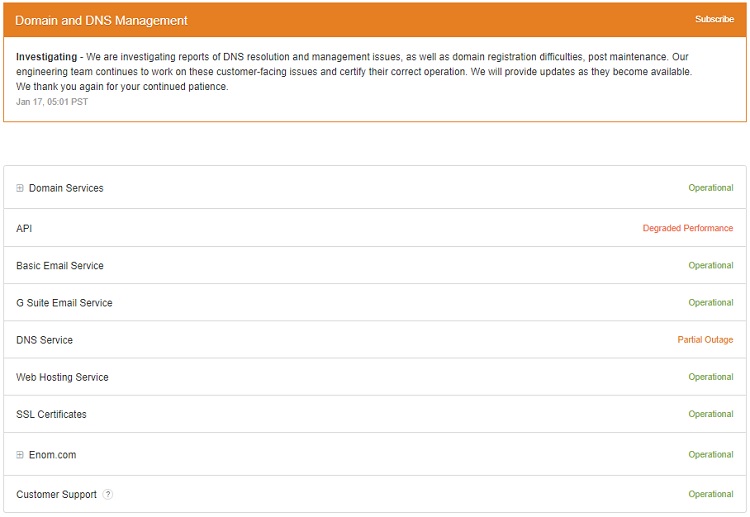 Enom update published at 05:01 a.m. PST on Monday (Source: enomstatus.com)
In the latest update, along with the DNS service, Enom also confirms "degraded performance" of its application programming interface.
Zero Communication
Apart from the support center updates that have also been pasted on Enom Support's Twitter feed, there has been zero transparency and communication from the company, according to users posting on Reddit.
A user called NixRocks says, "No email notices about this issue before or since the outage for us. Epic customer service fail here. Had to hear about email problems from a client, investigate, found Enom is [responsible], and no ability to resolve. As soon as they are back up, we will be moving all the domains hosted there away. In all my years dealing with registrars hosting DNS [measured in several decades] I've had outages, but never to this level, for this long, with zero communication."
Travel PR firm owner Jennifer Maguire, replying to a tweet by associate professor Matthew Green from Johns Hopkins Information Security Institute, asking for know-how about the incident, says Enom's 24/7 helplines were been turned off amid the global outage, leaving he - and other customers - with no viable way to communicate with the company.
Global outages during planned maintenance mean that customers have no email or website. And turned off their 24/7 help lines. No direct Comms w customers. Complete customer service debacle. I work in #PR so trying to get #techmedia interested in story.

— Jennifer Maguire (@jmagNYC) January 17, 2022
Enom has not responded to Information Security Media Group's request for an update on the expected timeline for complete recovery.