SF Fraud Summit a Must-Attend
Visa's Ellen Richey to Deliver Payment Card Security Keynote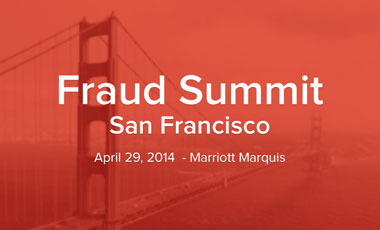 The Target breach. Account takeover. Mobile banking. Big data analytics. If these terms mean anything to you and your career, then stop right now and give some thought to attending our Fraud Summit in San Francisco on April 29.
See Also: Keeping Your Side of the Street Clean: 5 Cyber-Hygiene Facts You Wish You Knew Earlier
I've been immersed in staging this event for weeks, so I'm far too close to be objective. But when I step back and look at the group of speakers we've gathered and the topics they're going to address, I can only say that if fighting financial fraud is your focus, then there is no better place to be next Tuesday than at the Marriott Marquis in San Francisco.
If financial fraud is your focus, then there is no better place to be next Tuesday than at the Marriott Marquis in San Francisco.
You want speakers? Literally from A to Z, we've got Kirk Arthur of the U.S. Secret Service, Anton Chuvakin of Gartner, Ed Ferrara of Forrester, Malcolm Palmore of the FBI, David Pommerehn of the Consumer Bankers Association, Ellen Richey of Visa, Russell Thomas of Zions Bank and Rob Zerby of Wells Fargo.
You want topics? Well, let's get these speakers and others in the same room to talk about retail breaches, payment card fraud and the future of EMV. Let's look at trends in account takeover, big data analytics and fraud detection, threat intelligence and the underground economy, how banks can work with law enforcement, and, of course, the topic everyone wants to discuss: the future of payment card security.
Tracy Kitten, executive editor of BankInfoSecurity, will be my co-host at the Fraud Summit, which is sponsored by Brighterion, Easy Solutions, ThreatMetrix and Verint.
I can't say enough about the sessions we have planned for this one-day event. For complete details, check out the Fraud Summit agenda. But here are three sessions I'm very much looking forward to:
2014 Faces of Fraud - We're just now wrapping up our annual Faces of Fraud survey (if you haven't taken it, do so now), and I'll be debuting some of the early results in this session. I don't want to give away much, but I'll say this: The key theme of the research is the impact of retail breaches. And while I knew many banks were impacted by the likes of the Target and Sally Beauty breaches, I had no idea how badly they were struck. Or how angry they were. Or exactly where they plan to channel that energy. Joining me on this panel are Bryan Jardine of Easy Solutions, John Walp of M&T Bank and Zerby of Wells Fargo.
Big Data Analytics and Fraud Detection - For a couple of years now, big data and analytics have been touted as ways financial institutions can get a better handle on cross-channel fraud patterns, but we don't get a lot of how-to. Here's where we get some of those how-to tips from people who know the technology well: Allison Miller, senior director of platform business operations, Electronic Arts; Thomas, a data scientist at Zions Bank; and Andreas Baumhof, chief technology officer at ThreatMetrix.
The Future of Payment Card Security - This is the voice we've waited to hear. Since news of the Target breach first broke, we've all wondered, "What do the major payment card brands have to say about these incidents and the future of payments security?" Well, here's the answer. In an exclusive keynote address, Ellen Richey, executive vice president, chief legal officer and chief enterprise risk officer at Visa Inc., will talk frankly about EMV, tokenization and encryption, with an eye toward how best to advance payment card security.
There are many other great sessions and speakers, so be sure to check out the complete agenda for our Fraud Summit planned for San Francisco. And although space is limited, we do still have a handful of openings for attendees. So, if you're interested in attending, please register now.
And when we get done here, we'll do the same thing two weeks later in Chicago.