CISO Trainings , Governance & Risk Management , Training & Security Leadership
Preview: RSA Asia Pacific & Japan Conference 2017
Here's What Not to Miss in Singapore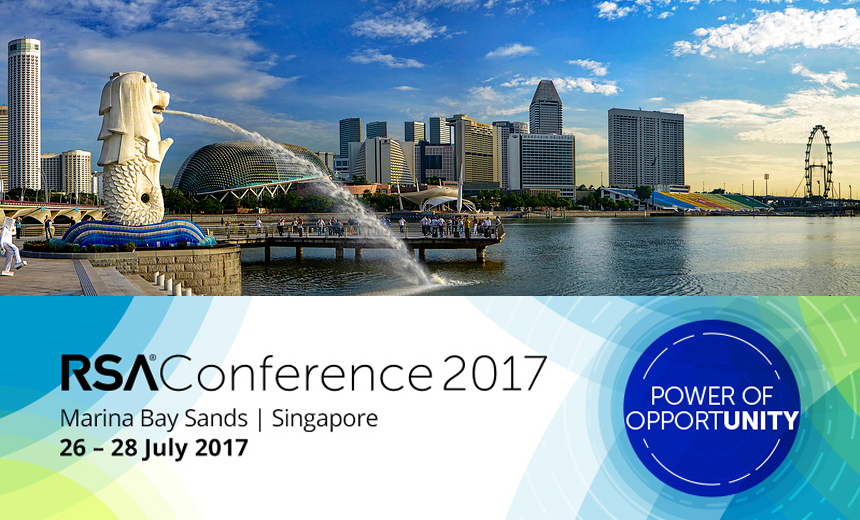 The RSA Asia Pacific & Japan Conference 2017 in Singapore July 26-28 will offer a security road map, imparting lessons to practitioners to help them navigate through cybersecurity complexities.
See Also: How to Reduce Compliance and Risk Workload to Increase Cybersecurity Revenue for Managed Security Service Providers (MSSPs)
The key objective of this conference is to enable organizations to get exposure to new technologies and ideas and help them take the right steps to secure against emerging threats and vulnerabilities.
This year's conference, which features more than 100 speakers, is designed for a cross-section of audiences, including executives, management, technical teams and newcomers to the field. The event is expected to draw over 5,000 attendees.
As was the case last year, more than 80 percent of the sessions at this year's conference - including keynotes, conference tracks and workshops - feature experts from vendor organizations. But these chief technology officers will be rolling up their sleeves to educate the audience on the latest security innovations to help them fight new threats.
Hot Sessions
The conference, which encompasses all aspects of information security, including devices, platforms, data science, law enforcement, business strategy, security and attack patterns, is making a concerted effort to share best practices that organizations can use to better understand security risks and challenges, secure corporate data and information assets, and shift security from just a defensive expense to an offensive differentiator that positively impacts business and revenue opportunities.
While the theme of the tracks remain the same as last year - delving into cloud, mobility, IoT security, e-fraud and law enforcement, threats, analytics and threat actors, the event will also cover policy and government regulations that impact their business. For example, two government officials from Australia will discuss regional cybersecurity issues.
A "learning lab," the most interesting and interactive session of the conference, will feature a real-time security operations center to showcase and help delegates on how to leverage a SoC in detecting threats.
Top Sessions
Here's a sampling of some of the can't-miss sessions:
The Precision Advantage: Rohit Ghai, RSA president, in his keynote speech will discuss how risk exposure is escalating as businesses in every sector embrace digital transformation, and he'll review technologies that can be used to avoid disruption. (July 26 | 2:55 p.m. - 3:20 p.m. | Roselle Simpor Ballroom 4700)
The Big Shift to Secure Digital Transformation: Chris Carlson, vice president of cloud security at Qualys, will explain why the focus needs to shift from securing network perimeters to proactively safeguarding data across systems, devices and the cloud. (July 26 | 4:00 p.m. - 4:20 p.m. | Roselle Simpor Ballroom 4700)
Radical Innovation: Revolutionizing the Future of Cybersecurity: Dr. Hugh Thompson, chief technology officer, Symantec, will discuss the importance of looking at models from other dynamic fields and embedding innovation into the very heart of the way we work. (July 26 | 3:40 p.m. - 4:00 p.m. | Roselle Simpor Ballroom 4700)
Avoiding Cybersecurity Groundhog Day -Taking Security into the Future:
Diana Kelley, global executive security adviser, IBM, will outline how in cybersecurity, it seems everything gets bigger - breaches, vulnerabilities, attacks and repercussions. (July 26 | 3:40 p.m. - 4:00 p.m. | Roselle Simpor Ballroom 4700)
Case Study: Tripling Incident Response Volume with SoC Orchestration: Yaniv Bar-Dayan, cybersecurity evangelist, Cyberbit, will offer a case study developed with one of Israel's top three banks to explain how the SoC manager substantially improved his KPIs over nine months. (July 27 | 4:00 p.m. - 4:20 p.m. | Orchid Ballroom | 4303)
Building a Resilient Security Posture for Effective Breach Prevention: Avinash Prasad, vice president and business head of managed security services, Tata Communications, will discuss why security elements dynamically need to adapt to newer business models in building a strong security posture. (July 28 | 11:55 a.m. - 12:15 p.m. | Orchid Ballroom | 4303)
A Champion's View: Data-Driven Performance, Risk Management and Security in F1: Jacques Villeneuve, Formula One world champion, will describe how closely performance and risk management are related. (July 28 | 2:35 p.m. - 3:20 p.m. | Roselle Simpor Ballroom 4700)
ISMG's Asia team will be at the event bringing you frequent updates, as well as interviews with Moshe Ferber, chairman, Cloud Security Alliance, Israel; Theo Nassiokas, director, APAC Cyber Security at Barclays Bank; John Yong, group CISO, CERTIS CISCO, among others. So, stay tuned and feel free to reach out to me to share your perspectives.
Additional Insights
You can also hear from more industry influencers, earn CPE credits and network with technology leaders at Information Security Media Group's global events. Learn more at our events site.