Melissa Hathaway: Paranoid Cybersecurity Mom
Tackling Information Risk Management on the Home Front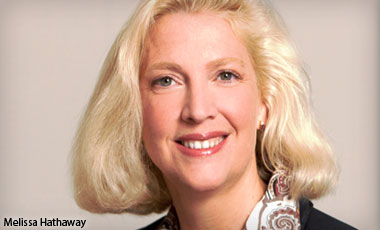 Melissa Hathaway admits being a bit paranoid when doing stuff on the Internet; in the past she confessed she doesn't bank online (see Does Melissa Hathaway Bank Online?).
See Also: OnDemand | Cutting Through the Hype: What Software Companies Really Need from ASPM
Hathaway, known for helping craft the cybersecurity policies of the Bush and Obama administrations, wants to instill some of her paranoia on her two school-age sons.
Last year, one of her sons "was dying to have Minecraft," which Hathaway described as a "very addictive, alternate reality game that's about survival," akin to the popular book and movie Hunger Games. As she told the Global Agenda 2012 forum at the University of Delaware earlier this month, she had her reservations about how safe it would be to download the game, since at the time, it was not available in a recognized app store. Hathaway asked her son to vet the software.
Her son reported back that there was a onetime fee, and purchasers would use PayPal to pay for the game. He also pointed out that the game was being evaluated for the Android marketplace as well as for another PC store and that the developer was from Sweden. "I was so impressed with all of the research," said the proud mom, who also did some parental vetting of her own. "Eventually, we got him Minecraft."
Hathaway is the type of mom who keeps tabs on her sons' online activities. "I do a Google search on my kids fairly regularly because I want to know what's out there about them," she said. Information about one of her sons appeared in search results, and she discovered he had created a Google profile without opting out on revealing his personal information and online habits.
"I had a conversation with him and I said, 'Did you set this up?' because he wasn't suppose to," the mom said, sounding more understanding than stern. "I said, 'You're not in trouble ... but we need to opt out of public facing. It's okay for your friends to see you, but not for the rest of the world.'"
Hathaway and her son reconfigured his Google profile. "Before he went to bed he was really nervous, like I was going to be really upset, and by 8 o'clock the next morning it was no longer public facing," she said.
New Google searches didn't reveal anything new about her son.
"My kids are pretty attuned to it. I think we really have to have a digital education system that actually brings the thought of right and wrong into the digital environment in which we're all living on," Hathaway said.
And, it wouldn't hurt for all of us to be a bit paranoid, too.