Why It's Tough to Pass Data Breach Bill
Measures to Create Federal Notification Law Mired in Congress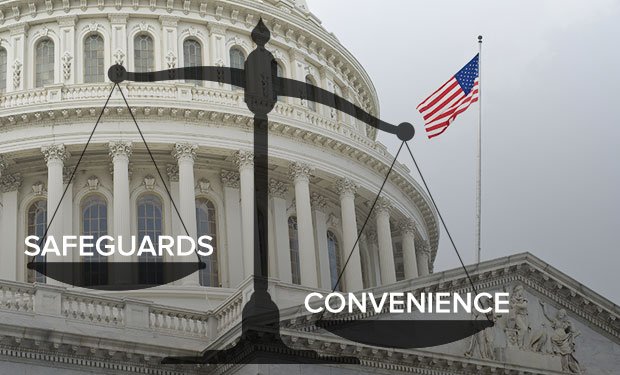 Backers of a national data breach notification law say it would greatly simplify compliance for businesses, which now must comply with laws in 51 different jurisdictions - 47 states, three territories and Washington, D.C.
See Also: 2023 Threat Horizons Report
But does that simplification come at too high a cost? Some federal lawmakers thinks so. They say passing a national data breach notification law would weaken data security protections found in certain states' statutes, thus doing more harm than good.
And those concerns are a major reason why building a consensus that paves the way for enacting a national breach notification law will prove difficult, if not impossible.
'Confusing for Businesses'
Last January, President Obama noted when he proposed his version of national data breach notification: "Right now, nearly every state has a different law on this, and it's confusing for consumers and it's confusing for companies, and it's costly, too, to have to comply to this patchwork of laws." (See Obama's Breach Notification Plan Lacks Specifics.)
President Obama explains the need for a national data breach law.
Almost every bill introduced in Congress over the past decade to create a national data breach notification standard would pre-empt state statutes. But that comes at a price. Several states, most notably Massachusetts, prescribe specific steps businesses must take to safeguard personally identifiable information. Most national data breach notification proposals don't require safeguards beyond saying businesses should take "reasonable" steps to secure PII.
Some industry experts - such as Larry Clinton, president of the trade group Internet Security Alliance - say they have seen no evidence that consumers' PII is more secure in those states that have more stringent security requirements. "To the notion that states can enact strong laws is, from a consumer perspective, a red herring," he says.
Middle Ground?
But some senators strongly disagree with Clinton's point of view.
"There are a number of like-minded senators who are paying attention to this issue and trying to push for a federal law ... that keeps state laws untouched as a middle-ground approach," says Chris Pierson, general counsel and chief security officer at payments provider Viewpost. "While this is more palatable for Congress, it does little to stem the growing diversity of state laws and the burden of conflicting state requirements."
One of those senators seeking a middle-ground approach is Richard Blumenthal, D-Conn., who, along with five other Democratic senators, has introduced legislation creating a national data breach notification law with a proviso: It won't pre-empt more stringent state laws (see Another Breach Notification Bill Introduced).
"We must ensure consumers have strong protections on the federal level, but in so doing, we must make sure Congress doesn't weaken state protections that consumers rely on to keep their information safe," Blumenthal says. "Importantly, this measure strikes the right balance between state rights and strong federal enforcement and extends consumer privacy protections into a new digital era."
A right balance? Sasha Romanosky, an associate policy researcher at the think tank Rand Corp., characterizes the Democratic senators' bill as a "workaround" that sets a "national floor for breach compliance." But Romanosky is concerned that "then you'd just have the same issue as there is now: 47 potentially distinct state laws."
The Democrats' bill - like the Massachusetts statute - contains a list of security requirements with which businesses would have to comply. That makes the bill unpassable. Nearly every GOP lawmaker opposes any measure that that would place additional requirements on businesses.
60-Vote Threshold
Consumer advocacy groups generally oppose national data breach notification legislation that would weaken states' security standards. And those groups might have the clout to get enough Democratic senators to oppose any measure that would pre-empt state laws.
Sixty votes generally are needed for a bill to be considered by the Senate; the upper chamber has 44 Democrats and two independents who caucus with them. So getting 41 senators to block a vote on a data breach notification bill is possible.
Whether stricter state laws actually provide consumers with better security protections is debatable, but the perception among a number of lawmakers - mostly Democrats - is that they do. If at least 41 senators agree with that notion, then Congress will not enact a national breach notification law.