Arrest Made in BofA Skimming
Authorities Believe Suspect has Ties to International Crime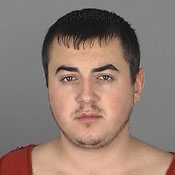 Florida authorities have arrested and charged a man they believe is responsible for a rash of ATM skimming attacks waged against Bank of America branches in three Tampa Bay counties. [See ATM Skimming Spree Investigated.]

Alexandre Micotin, 23, of Pasco County, Fla., on Oct. 10 was transferred to the Pinellas County, Fla., jail to face charges of organized fraud and the criminal use of personal identification information. The charges stem from ATM skimming incidents reported in August.

A total of four compromised BofA ATMs have been connected to Micotin, and various reports suggest 102 BofA customer accounts were hit. Losses linked to one of the skimmers reportedly totaled $1,746.75. At another location, losses totaled $26,000.

Bank surveillance caught Micotin and his alleged accomplices attaching skimming devices. Cameras also captured suspects trying to attach skimming devices at BofA ATMs in the neighboring Florida counties of Okaloosa, St. Johns, Orange and Broward between June 23 and Sept. 10. Suspects also were seen withdrawing money at branches.

Evidence suggests Micotin has links to an international crime ring. One local news report claimed authorities discovered counterfeit cards, which could be traced to Micotin, that held account numbers associated with banks in the United Kingdom. But Cecilia Barreda, spokeswoman for the Pinellas County, Fla., Sheriff's Department would not confirm that report, saying simply that additional details were not being released until the investigation was closed. More suspects are being sought, she says.
Growing International Fraud
The involvement of international crime rings in ATM skimming attacks was highlighted most recently in Queens County, N.Y., where authorities wrapped a two-year investigation that resulted in the biggest identity theft takedown in U.S. history. [See Biggest ID Theft Bust in History.]

Neal O'Farrell says ATM skimming scams are taking place in most large cities, and most times go undetected, uninvestigated and unprosecuted.

"We know there are scams like this being run in almost every city, usually in the $500,000 to $1 million range. That usually makes them too big for local law enforcement to investigate and too small for federal agencies to pick up," he says. "The big problem we're seeing is that because the low- to mid-level crooks and gangs are going unchallenged, they simply have more time to get better, perfect their art, steal more, and hide their tracks. By the time law enforcement uncovers them, there's little left to prosecute."