4 Years Later: Mission Accomplished?
Harry Raduege, Co-Chair, Cybersec Commission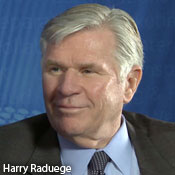 Harry Raduege has been around government and IT security long enough to know that changes don't move anywhere near Internet speed.
See Also: OnDemand | Cutting Through the Hype: What Software Companies Really Need from ASPM
Raduege, a retired 3-star Air Force general who once headed the Defense Information Systems Agency, co-chaired the Commission on Cybersecurity for the 44th Presidency, a bipartisan, multi-sector group that presented then President-Elect Obama with a cybersecurity game plan for the incoming administration. More than four years later, some of its recommendations have been adopted, but many of them have yet to be adequately addressed.
But in a video interview with Information Security Media Group, Raduege says 2013 could be the year many of the recommendations made by the commission could be adopted in the form of comprehensive cybersecurity legislation that Congress had failed to enact during the president's first term.
"It's a funny phenomena; when you talk to the individual members of Congress and you have a discussion about cybersecurity, they all talk and acknowledge the importance of it," says Raduege, chairman of the Deloitte Center for Cyber Innovation.
"They acknowledge how vulnerable our nation is and, frankly, most of them are just tremendously appalled at the state that we're in today and how much we are being attacked, how much intellectual property is being stolen, how much cybercrime," he says. "However, it just doesn't seem that we can get the total Congress together to agree on anything that could move the legislation forward."
In the interview, Raduege:
Expresses hope that the executive order President Obama issued earlier this month could jumpstart the legislative process.
Explains how growing public awareness of cyber-threats could encourage Congress to act.
Addresses how cybersecurity is moving from the backroom to the boardroom and its implications on defending against cyber-threats.
In the military, Raduege served for more than 17 years in joint duty assignments. In his last position, he led Department of Defense netcentric operations as the director of the DISA. He led efforts to restore communications to the Pentagon following the Sept. 11 terrorist attacks, upgraded presidential communications and directed the successful expansion of the department's Global Information Grid through a $1 billion transformational communications program.
Additional Summit Insight:
Hear from more industry influencers, earn CPE credits, and network with leaders of technology at our global events. Learn more at our Fraud & Breach Prevention Events site.