20 Cybersecurity Objectives for DHS
Delineating Homeland Security's Responsibilities in Cyberspace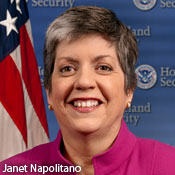 The Obama administration and many members of Congress generally agree that the Department of Homeland Security should play a stronger, central role in securing the federal government's non-military and non-intelligence information systems and data as well as safeguarding the nation's critical IT infrastructure.
See Also: Keeping Your Side of the Street Clean: 5 Cyber-Hygiene Facts You Wish You Knew Earlier
DHS this week released Blueprint for a Secure Cyber Future: The Cybersecurity Strategy for the Homeland Security Enterprise, which calls for a coordinated effort across the homeland-security community to respond to evolving cyberthreats, and delineates 20 specific objectives and the roles DHS will perform to achieve them under two major categories: protecting critical information infrastructure and the strengthening of the cyber ecosystem.
"This strategy provides a framework for a cyberspace that enables innovation and prosperity, advances our economic interests and national security, and integrates privacy and civil liberties protections into the department's cybersecurity activities," Homeland Security Secretary Janet Napolitano wrote in a blog.
Here are the 20 roles: