FFIEC Authentication Guidance: Anomaly Detection
Spotting Anomalous Behavior Is a Minimum Requirement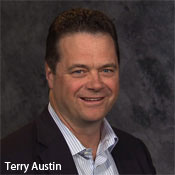 Behavioral monitoring and transaction-anomaly detection are setting the baseline for online authentication, says Guardian Analytics' Terry Austin.
Incidents of corporate account takeover have spurred many debates about online security, bank liability when breaches occur and the need for more regulatory oversight from governing bodies, such as the Federal Financial Institutions Examination Council.
In its new supplement about online authentication guidance, the FFIEC addresses those concerns, highlighting the need for more transaction monitoring, device identification and log analysis, says Austin, CEO of online security provider Guardian Analytics. In fact, Austin says anomaly detection is a minimum requirement, according to the FFIEC's updated guidance, because it is so effective.
"Anomaly detection really works at an individual accountholder level," Austin says. "By really analyzing and zeroing in on the anomalous behavior, it's been proven over and over again that these kinds of frauds and cybercrimes can be stopped."
But institutions across the board have not made investments to enhance transaction monitoring and anomaly detection, so the new guidance is pushing them to do so.
"It's not malware-specific or threat-specific, so it's very effective in detecting the anomalies as the threats change," Austin says. "The best step institutions can take is to assume that the endpoint, the customer point, has been compromised. ... What the new guidance is saying is that you just can't guarantee security at the customer end."
Device identification and log analysis play key roles here, too, Austin says, as both work to not only identify suspicious or out-of-character user behavior, but when reviewed in tandem, each sheds light on behavior that could otherwise go undetected.
During this interview, Austin discusses:
The need for all banking institutions to meet minimum requirements for anomaly detection, transaction monitoring and administrative controls;
Steps banks and credit unions need to take to put plans and processes in place for risk assessments; and
Why rethinking customer communication strategies to increase and improve transparency is so critical.
Prior to joining Guardian Analytics, Austin served as CEO and president of MarketLive, a leading provider of eCommerce platform solutions, where he created a scalable business strategy, assembled a world-class executive team and led successful fundraising efforts. He was previously president of worldwide marketing and sales at Good Technology, a provider of mobile computing solutions, where he spearheaded the company's rapid growth from 10,000 to over 500,000 subscribers and facilitated its acquisition by Motorola in January 2007. Austin has also served as president of EMEA and executive vice president for Manugistics, a market leading provider of enterprise software. He started his career at Accenture, where he ultimately led an $80 million consulting practice as a lead partner.
For all the latest news and views, please visit the FFIEC Authentication Guidance Resource Center.
Latest Tweets and Mentions